If you are a regular reader of this blog you will know how much we love
Jonny and the Baptists.
Oh how we love their silly songs, their serious issues songs, their satirical look at the world songs, their trying to make the world a better place songs, their chemistry together with Paddy's brilliant guitar playing and Jonny's soulful voice.
They *are* comedy blues.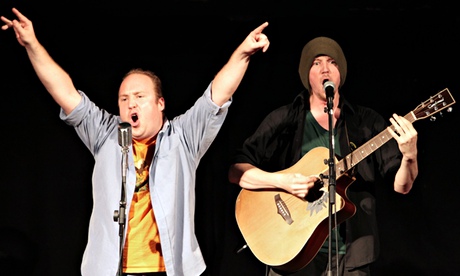 You can also imagine how we felt when we moved to Wales. There might be no more Jonny and the Baptists for us. We used to see them quite regularly when we went to
Distraction Club
in London on the first Tuesday of the month. They are fantastic musicians and because we have chatted a few times at these gigs and had some email correspondence I can honestly say they are also all-round nice blokes as well.
Most things in Wales are brilliant, but there was a giant Jonny and the Baptists shaped hole in our lives.
But no more!
Yesterday we took the train to Cardiff which is two hours for us and then walked about 30 minutes in the rain (this is Wales after all) to get to the
Chapter Arts Centre
. We were all jiggly with excitement because we were gonna see us some Jonny and Paddy!!!!!!
We got there early and brought a bag load of food as we knew we were going be back later. Really late. Spectacularly late. Next day late. But we were wet and weirdly steamy (plastic waterproof coats and hot weather are not a good mix) and so we perused the menu at the
Chapter Arts Centre
and it was AMAZING. There was a vegan menu. There was a gluten free menu. With a bit of cross referencing on our parts to find stuff v/gf we managed to order a large plate of homemade kidney bean vegan sausages over mash with brown gravy and falafels with hummus. Plus they had that posh rose lemonade I love by Fentimans.
Soon we were dry and well fed and it was time for the fun to start.
There were about 90 people there and we were a very appreciative audience. We even laughed at the duck butler joke.
Jonny had grown a beard and Paddy occasionally let down his golden hair like Rapunzel. The show was called
The End is Nigh
and was all about Jonny and Paddy trying to stop climate change after Jonny frightened his favourite four year old niece Isabella by telling her the world was going to end because we were not doing enough to stop climate change.
He made her cry and this tour is out to rectify that.
It was a mixture of serious and silly with lots of facts about climate change and saving the environment (there was a song about weeing in the shower because of how much water is used when you flush the loo) but also a striking indictment of those who
walk the walk
as opposed to those who
talk the talk.
When the show was first written it featured a man named
Mathew Hancock
who was at that time the
Minister of State for Energy
which was a strange appointment as he was a bit of a climate change denier and was seen as slightly controversial after hiring a private jet to take him home from a climate conference. A climate conference!!!!
What a dick.
Which is where the next part of the show went. There was a toe tapping number called
Willies
about...well drawing willies on things. Spiderman spent a decade working at an all boys school. He is an expert on this. If there is a blank, available space--a boy will draw a willy on it. FACT. The song lamented a simpler time when all you had to do was draw willies on stuff (like when studying WW1 about the Germans and French you'd draw a little willy poking out of the trench) but now we need to take action and solve climate change and it is not as easy (or as much fun) as drawing willies on stuff.
Oh, and they also dressed a member of the audience up as Mathew Hancock and then drew a willy on him.
The show ended all too soon with a rousing chorus of the song
We're All Going To Die
and that had us giggling and singing it all the way back to the station (once again in the rain). We kept mouthing it to each other on the train--fearful of singing it too loud lest someone get the wrong idea. The happy vibe from the concert and all the humming and laughing made the two hour train journey back to Carmarthen pass quickly.
Before we left, we stopped to say hello to them and as always they are just genuinely lovely human beings. They used to sell CDs but now after looking at the environmental aspect of them have decided to go to the download version only. We spent a fiver for a photo of them on recycled paper which had the download code for getting the music online. They signed it with--what else--a drawing of a willy.
If anyone out there would like to hear more about them (and you totally should) go to
http://jonnyandthebaptists.co.uk/
where you can download their music for a reasonable rate and watch their videos.
We love you guys! Thank you for coming to Wales!