Well.
This was a surprise.
My birthday is not until Tuesday, but I got to open my pressie several days early.
Squee!!
The morning started with this conversation over breakfast. First you must remember that we purchased a signed
Tom Gauld
print of the
Dickensian Alphabet
on our travels last month. We have even had it framed with a beautiful ornate antique gold frame ready to hang. This you must remember or nothing that follows will seem wondrous.
Me
: Do you know what I'd like for my birthday?
Spiderman:
No. What?
Me:
I would like you to hang up that Tom Gauld print since it has been sitting propped up against the wall for a month.
Spiderman:
Well....if you want me to hang something up for your birthday, I suppose I should let you open your present now and I can hang them both. But I don't know if you *really* want to open it early.....
Me:
(boing, boing boing) Yes! CAN I OPEN IT NOW????
And so it came to pass that I am now the owner of an amazing autographed print of
Death and the Maiden
by the wonderful award winning illustrator
PJ Lynch.
We own several of his beautifully illustrated books such as The Steadfast Tin Soldier, When Jessie Came Across the Sea and The Gift of the Magi.
We have a long history with PJ Lynch. A few years ago, Spiderman tracked him down and asked about an illustration he did for the Wizard of Oz and he had a rummage around his shed and came up with a limited edition artist proof (ours says 1/9) that he kindly sold us and we have framed in the OZ corner of the house.
Yes, of course there is an OZ corner. Do you even have to ask?
Anyway, Spiderman saw this print for sale in his
ONLINE SHOP
and knew it was just the sort of thing I would love.
It's GOTHIC.
It's VICTORIAN.
It's MELODRAMATIC.
it's CREEPY.
It's SENSUAL.
It's BLOODY AMAZING.
Here it is: (the photo is from PJ Lynch's shop)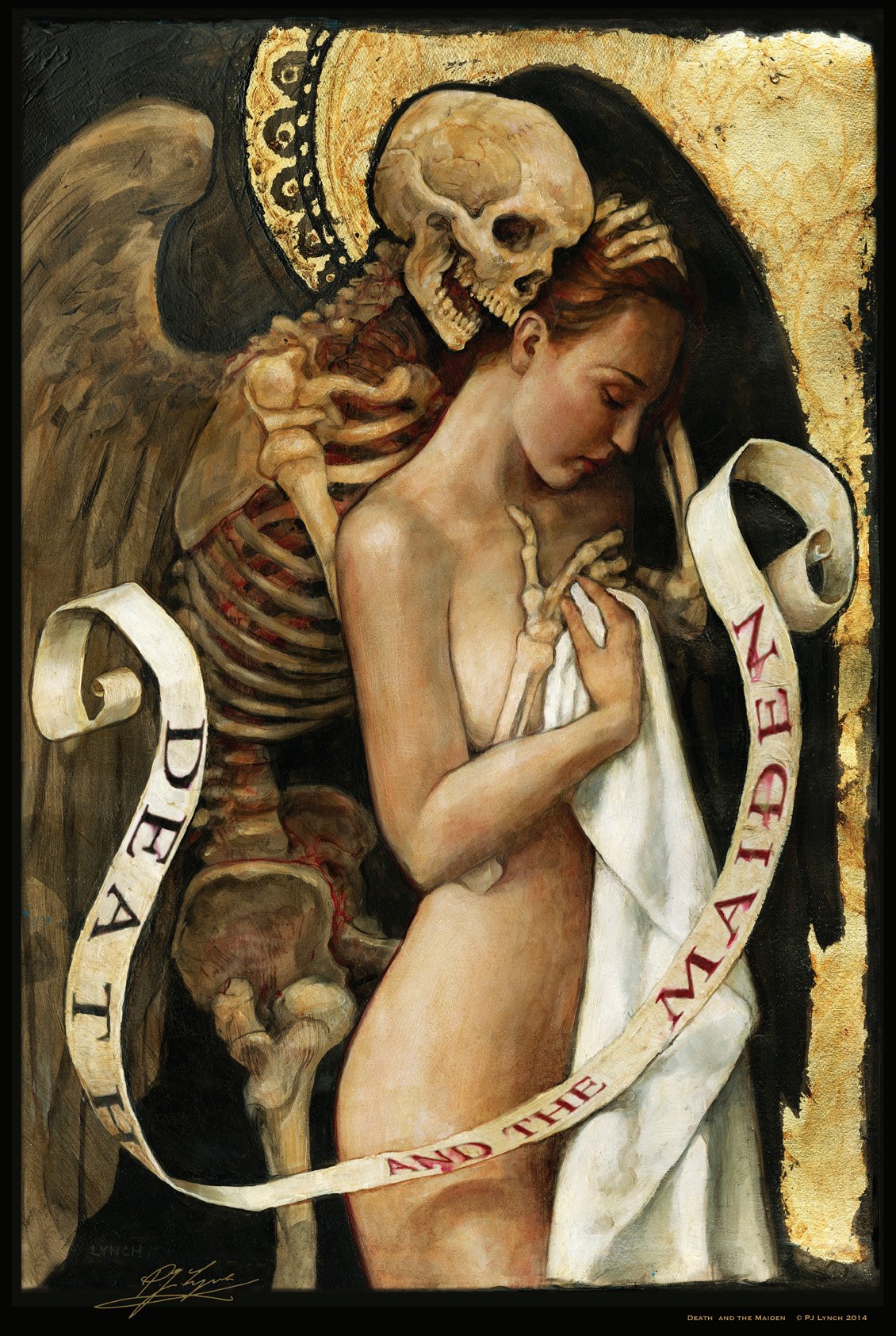 He even bought another ornate antique gold frame from the same company we used to get the frame for the Tom Gauld print and I while I was in London saving the planet, Spiderman was home getting it in the frame and hiding it from me.
Here it is in the frame:
After I ran around in a circle flapping my hands for a few minutes and hugging the stuffing out of him, we had a huge laugh at the fact that 90% of people we know would not want this in their house no matter how cool it is.
We're hanging it in the bedroom.
So a huge thanks to the Amazing Spiderman (who truly lives up to his name) and the brilliant PJ Lynch who also sent a lovely hand written letter to accompany the signed print.
Happy, happy Spidergrrl.