Hello lovelies! Today is my UN-BIRTHDAY. My mum's birthday was yesterday and my dad's (heavenly) birthday will be tomorrow. As a child it was very hard to have a December birthday when everyone else in your household had a birthday right at the same time, so the day in between was declared my un-birthday like in Alice in Wonderland.
Spiderman likes to pretend this is not a real holiday, but it totally is. Every year we laugh about it being Schrodinger's birthday--the holiday that is and is not simultaneously happening. Every year he makes a big production of saying in a pantomime gesture behind his hand to an invisible audience that it is not real and I am talking nonsense, but every year I get a gift--so who's laughing now?
This year I was stunned by not only the gift, but the grand gesture of remembering something I had vaguely mentioned a few weeks ago but also of finding a whopping great bargain. Because i do love a bargain.
Spiderman is great at this sort of thing. He listens and makes a mental note and then surprises me with something personal and meaningful and I run around in a little circle flapping my hands out of joy.
Fairy Tales are important to me. I write a blog about them every Friday. I published a whole book of them last year. I love illustration. I just made an altered book with 60 illustrations during lockdown. I made a companion art exhibit to go with my book launch last year. Shaun Tan just won the Greenaway award for best illustrations in a children's book. His book The Singing Bones was a huge influence on me when I was making the companion art for my book Wounds: New Openings Into Old Stories. I checked it out of the library half a dozen times while I was creating my artwork.
He created lots of grotesquely beautiful sculptures and then photographed them and I love the juxtaposition of them all.
When Shaun Tan won the Greenaway, I said to Spiderman I wish I had that book. I regretted not ever buying me a copy. Spiderman said--in that casual dismissive way he does that I fall for every time--"Well, the one we should have gotten you was the collector's edition in the slipcover with the two signed prints, but it is too late now as it was a limited edition."
I sighed and agreed. Plus it was really expensive, I told myself.
Well it turns out that that was a big ole lie. Because yesterday, what should arrive in the post but the limited edition of The Singing Bones that he found on a clearance sale at 30% of the original price.
And you want to see what is cool? The clasps on either side are in the shape of bones that you thread through ribbons.
Here are my two prints signed by Shaun Tan. You can't see the signatures in the photo, but they are both signed.
I love this book because it features some very familiar tales like these: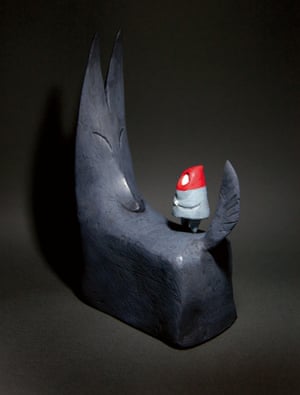 Red Riding Hood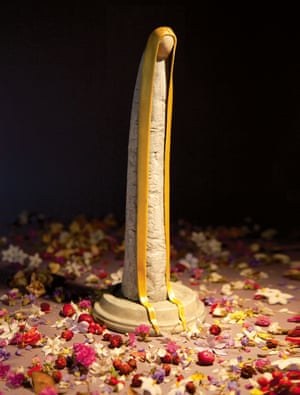 Rapunzel
Also lesser know tales like these:
Mother Trudy
Foundling
I love it so much. Thank you Amazing Spiderman! Even as you handed it over saying this was definitely NOT for my un-birthday as that holiday does not exist I saw your sly wink and that twinkle you get as you saw how happy I was with my un-birthday gift. Thanks, best beloved.