I read an article recently about the fact the couples who play together tend to be happier and stay together. I believe this is the reason for the success of our marriage--which approaches its 20th year in the summer. (edited to add: I wrote this five years ago and we are still playing games)
Spiderman and I have all sorts of games that we play and now, for the first time ever, we will share the secret of our success with you. You too can play these games at home and enlighten your marriage (or drive each other crazy) which ever happens first.
Change the letters:
This is a popular game where you use a sharpie marker to change the letters on some object to make them funnier.
Example one:
This prompted Spiderman to say, "Gosh Ma, I just can't wait to eat my Kountry Krisp cereal" in his best Bubba voice. Because for some reason, in Louisiana everything crafty is spelled with a K so you might have Kountry Kraft Korner as the (not very) klever name of your shop.
Example two:
This is from a box of Cracker Snaps that I use every year to make Christmas crackers. Spiderman has helpfully re-labelled it Snacker Craps.
This game must be played in a supermarket. You try to find the most disgusting thing and then casually point to it and hope the other person looks and gets all grossed out because that means you win. Variation: Put the offending item in the trolley and wait until the other person notices and screams.
tripe...blech
I can't recall where the name Poodnoobie came from--perhaps from some badly written children's book about an alien--but basically it involves hiding something and waiting until the person finds it unexpectedly and then hides it for you. We did this for years with a plastic baby Jesus from a Mardi Gras king cake and then for many years after that with a handful of tiny plastic spiders.

Haven't played this in a while. Hmmm…must find small strange object to hide…
Our current incarnation of this game is h
ide the giant snail of doom.
There is the creepy-as-hell short story in
Chris Priestley's Tales of Terror From the Black Ship
about bowling ball sized carnivorous snails that slowly creep up to you and eat your flesh. We take turns hiding the giant snail of doom. Here he is in a kitchen cabinet waiting for an unsuspecting person to get a mug to make tea.
There's your dream house:
This is a useful one when travelling as you have to point out the most derelict building you can find and say "There's your dream house." Variation: There's your dream car.
http://www.flickriver.com/photos/33847785@N00/tags/stream/
Said when you can't get away from noisy, badly behaved, "no-necked monster" children. The proper response is, "Let's make it twelve." Especially if they are recklessly riding about unsupervised on scooters. That might make the number go up to as high as fifteen.
blurry--but if you look he's flipping you off
http://www.politicallyincorrect.me.uk/children.htm
This stands for Real Blonde Sears Blonde. I didn't make this one up--I got it from Marc Lenard. The Sears is just to indicate cheaply bought from the mall. It really is just

pointing out someone with very obviously dyed blond hair and saying "RBSB?" and the proper reply is, "Definitely R."

Variation: Use the initial of any unnaturally coloured hair.
This stand for Poor Thing when you see someone dressed in something that they probably shouldn't--a mini skirt the size of a handkerchief made from rubber that makes it impossible to sit down or an older lady dressed like a teenager. The Poor Thing is they probably thought it was a good idea, but it really isn't. Variation: PTH which is where they have erred in the fashion way but I would have totally worn it in the 80s and thought I was adorable. I once made a skirt out of strips of newspaper just like Cyndi Lauper wore in the video for True Colours and wore it to school. Can you believe it, they sent me home for dress code violations???
1. Substitute the word fart in any Shakespeare quote. e.g. "But soft! What fart through yonder window breaks?" (Romeo and Juliet) or "To fart or not to fart, that is the question." (Hamlet)
2. Substitute a food word into a hymn. e.g. Oh how I love Cheeses or Amazing Grapes or Come Thou Fount of Every Dressing or Jesus Lover of my Sole.
3. Change the general nature of famous characters from literature and make them say things in funny voices that are texturally accurate. e.g. The rabbits from

Richard Adams' book Watership Down

being Chavs (white trash) saying things like,
The primroses were well over.
Fiver: (moaning) Oooo
Big Wig: Oh for Frith's sake 'azel, what's Fiver on about?
Fiver: Bloody fields, innit


.




Posh Kehaar: I say old chaps, that's some frightfully big water.


Well you need to jolly well get you some does, I dare say.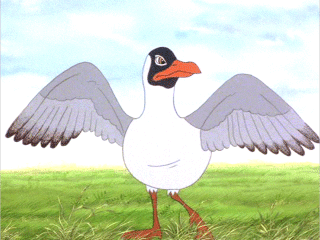 Our current incarnation of this game is one that has been making the rounds on twitter. Basically you say the first line of any novel and then follow it with the words "
And then the murders began."
So try these out and see if you can figure out what books they are from:
Alice was beginning to get very tired of sitting by her sister on the bank and having nothing to do. And then the murders began.
In an old house in Paris that was covered with vines lived twelve little girls in two straight lines. And then the murders began.
Once there were four children whose names were Peter, Susan, Edmund and Lucy. And then the murders began.
Making inanimate objects talk:
Really exactly what it says. Spiderman is excellent at this and it makes me laugh until I cry. In college we had Francis the talking napkin holder and we have a toy stuffed jerboa named Hunterian (named after our favourite science museum) that says the following:
Spiderman: Would you like some more food Huntarian?
Huntarian in a squeaky voice: No thanks, I'm stuffed.
Seriously, every time he does this I scream with laughter.
You think you're the first person to say that?:
AKA Yeah, like no one's ever said that to me or Like I've never heard that before. We invented this one recently at the zoo. Basically, you say the most obvious thing to an animal like "Hey Hedwig, I've got some post that needs to be delivered" to a snowy and owl and the owl responds...you guessed it...with the phrase, "You think you're the first person to say that???"
Jazz Chicken plays all your favourite tunes:
We stole the idea of Jazz Chicken from an Eddie Izzard comedy routine but Spiderman does this impression of a chicken playing a trumpet and plays lots of songs in a jazzed up way. A lot funnier than it sounds. Really.
Saying I Love You with sounds:
We have lots of secret ways to tell each other I love you. Mostly stolen from other sources.
(Fish go) pook pook pook (from Lenore the Little Dead Girl Comics)
Tkk Tkk Tkk
(like Skippy the Goth Kangaroo an animation by Matazone which includes the lines:
Boy: What's that Skippy? Lord Oberon dark god of the night has fallen down a well?
Boy: And he's out of eyeliner!
watch the video here:
www.matazone.co.uk/animpages/skippy-the-goth-kangaroo.html
"Moo" and the reply is "Hhrrr"
(Eddie Izzard's impression of a cow driving a convertible with a velociraptor in the back seat.) Seriously.
This is from a 1988 advert for British gas and having a real fireplace that features a dog coming into a room to lie down by the fire, then a cat comes and kisses him and lays down beside him and then a wee mouse runs in and the cat kisses him and they all lay down beside a roaring fire together in peace and harmony to the tune of the Shirrelles "Will you still love me tomorrow?" To make the cat kiss the dog they put a prawn behind his ear and to make the mouse run in a straight line they made a trail of his own wee to follow. Knowing that does not diminish the magic, however.
Go here to watch it:
This is the secret to our successful marriage--we are both mad as hatters. But at least we are at the tea party together.