There are quite a few Letter B artists.I have tried to whittle it down, but it will still take two posts to do it all.
The Fab Four
I guess the place to start is way back with
The Beatles.
I had been a fan of theirs since I discovered them in my mother's 45 record collection. I had a Greatest Hits album on vinyl and as I mentioned in the introduction, I begged Danny for a dollar to buy them live at the Cavern Club. But by age sixteen i was more interested in their later stuff. For my sixteenth birthday I asked for the compilation
The Beatles 1967-70
on cassette and my parents dutifully complied.
I could say so much about them, but you already know so much about them it seems pointless to show you things you already know. But you should know that my favourite songs are
Eleanor Rigby
and
We Can Work It Out.
But I thought I would introduce you to a song that perhaps you do not know. The sort that don't make it on a compilation album. My unusual pick is
Being For the Benefit of Mr Kite
from Sgt Pepper's Lonely Hearts Club Band. It was inspired by a 19th century circus poster that John Lennon bought.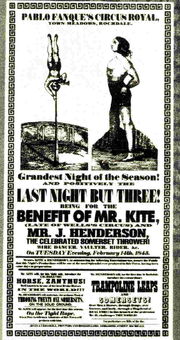 It is worth mentioning that
Pablo Fanque
who is referenced in the song was an equestrian and acrobat and was the first non-white circus British owner.
As there is some copyright issues with Beatles songs on youtube. I found this fab cover version which sounds just like it.
Watch it here:
I love this song--it sounds to me like the music is played backwards if that makes any sense. It has a really dark, slightly sinister merry-go-round feeling like it comes out of
Something Wicked This way Comes.
The B52s.
Oh this campy new wave band from Athens, Georgia done stole my heart. I first discovered them through summer camp at The Mountain in North Carolina. All the cool kids from the northern states would show me what was cool--clothes, music, etc and i would soak it up like a sponge for two weeks every summer and then bring it back to Louisiana where everyone called me a freak until the trends tricked down to us a year later. I was *always* ahead of my time.
I loved their lo-tech, exuberant slightly nonsense songs all sung with Fred Schneider's distinctive voice and backed up by two of the grooviest chicks on the planet--Cindy Wilson and Kate Pierson. The first song that i fell in love with was
Rock Lobster.
Watch it here:
I love this slightly rougher side of them before they became polished with songs like Love Shack.
Favourite bit:
Here comes a stingray
There goes a manta-ray
In walked a jelly fish
There goes a dog-fish
Chased by a cat-fish
In flew a sea robin
Watch out for that piranha
There goes a narwhal
Here comes a bikini whale!
I adore the freaky noises the Kate and Cindy make on this part.
Berlin
I was so entranced with this American new wave band with their synthesizers and the cool dip-dyed hair of lead singer Terri Nunn.
They got popular with songs like Take Me Breath Away from Top Gun which won both an Academy Award and Golden Globe for best song, but i found it wet and soppy even if Terri Nunn had that killer dip-dyed hair (a look I coveted, but never copied). No, my favourites were earlier, forgotten or more obscure works. There was this kinky song called Sex, I'm a...which explored the sex roles of men and women with lyrics like:
I'm a man, I'm a goddess
I'm a man, well I'm a virgin
I'm a man, I'm a blue movie
I'm a man, I'm a bitch
I'm a man, I'm a geisha
I'm a man, I'm a little girl
And we make love together
This was heady stuff for me in 1987 as I obsessively listened to this song on cassette in my beloved blue Subaru as I drove to and from Louisiana College. It started me off on my feminist journey of what it means to be a woman--what does society expect of you--how many roles a woman must play versus how many a man must play. Now, it feels a bit dated and corny, but the song that never dates for me is The Metro. It had a killer synthesizer hook and the song told a story. It was the start of my love for songs (and of course the new musical art form the video) that told a story. For years i wanted to turn this into a short story. To write, to fill in the gaps that the song leaves out. But i can't because the song is perfect. Sadly, you don't get Terri Nunn's dip-dyed hair, but you can't have everything.
Watch it here:
Favourite bit: The line I remember hating you for loving me--just the way she sings it.
In 1987 when i went to London and Paris with my french teacher Mrs Cyphert, Elizabeth J and I sang the chorus over and over and over *every* song time we rode the Metro in honour of Berlin. Because we could.
Book of Love
Book of Love were a synthpop and electronic band from the 1980's. They used a lot of tubular bells, chimes and melodica in their songs which gave them a slightly surreal, but very lush sound. They toured twice as the opening act for Depeche Mode and were praised for their forward thinking lyrics about sexual orientation and gender roles. The leader singer Susan Ottaviano had this amazing deep voice. It was rich with expression and has only been beaten by Allison Moyet of Yaz who is the queen of 1980's deep expressive women's voices. I first heard of Book of Love from a girl named Leslie who had just moved to Alexandria from down south--Houma, perhaps? She had a mix tape made by a friend as a parting gift and I was smitten. At a slumber party i wanted to listen to it over and over and we couldn't agree on a favourite song. She preferred the irreverent gender bending Boy while I preferred the tells-a-story-song Yellow Sky.
Watch it now: (this is just the song and a picture so don't be expecting a video)
Trivia: The person who taped it for Leslie reversed the order of songs--side two of the cassette was recorded as side one and side one was recorded as side two. For years I thought that the first song was I Touch Roses. Turns out that is the first song on Side 2!
Interesting fact:
Ted Ottaviano (main song writer for BoL and strangely no relation to Susan Ottaviano) stated, "I was fascinated with
Altered Images
and other bands that were incorporating bells and chimes into their music. Long brass chimes, tubular bells, whatever. It sounded right, for the time."
Perhaps this was more of the appeal of Altered Images--the bells not just Clare Grogan!
That's all for Part 1 of Letter B, Stay tuned for more Letter B where we look at bands that I discovered at college and a bit later.