Yesterday, Spiderman and I spent the day in nearby
Swansea.
We pottered around, did some geek shopping at a Comic Book Shop. We got two new volumes of
Lenore the Cute Little Dead Girl
by
Roman Dirge
.
We got a
Tales from the Darkside
written by our favourite author
Joe Hill
and illustrated by the amazing
Gabriel Rodriguez.
We ate a lovely lunch at Govindas and then we went to the library.
No, I don't think you under stand we went to THE library.
You know that mega cool
Doctor Who
episode where the
vashta narada
live in the shadows of the biggest library on the planet and eat people? You know the one where the child psychiatrist says to the little girl,
"The real world is lie. Your nightmares are real."
Oh, *those* one! Yes--
Silence in the Library
and
Forest of the Dead
--two of
Steven Moffat's
finest.
If you are still not with me--the one where we first meet
River Song.
Now you got me. You know what I am talking about.
Well we were there. Yup, we were there.
from Wikipedia
We were in the big round room featured above. Except is was actually a much smaller round room then it looked on film. Ah, the magic of telly!
But why were we there? OK, Yes to geek-out to Doctor Who. But why were we *really* there?
To see Eddie Izzard of course!
He was as fabulous as you'd expect!
He was wearing a stunning black power suit and a dainty necklace and higher heels then I ever worn. He had a matching handbag and his make up was flawless. I felt positively plain next to him!
He was there to talk about his film career and it was very interesting. it was quite casual--about maybe 50 people and no microphones. Just chatting about films. Just chatting about the time he broke into Pinewood Studios as a teenager to try to get into film. That funny story he talks about in his comedy routines really happened. Seriously!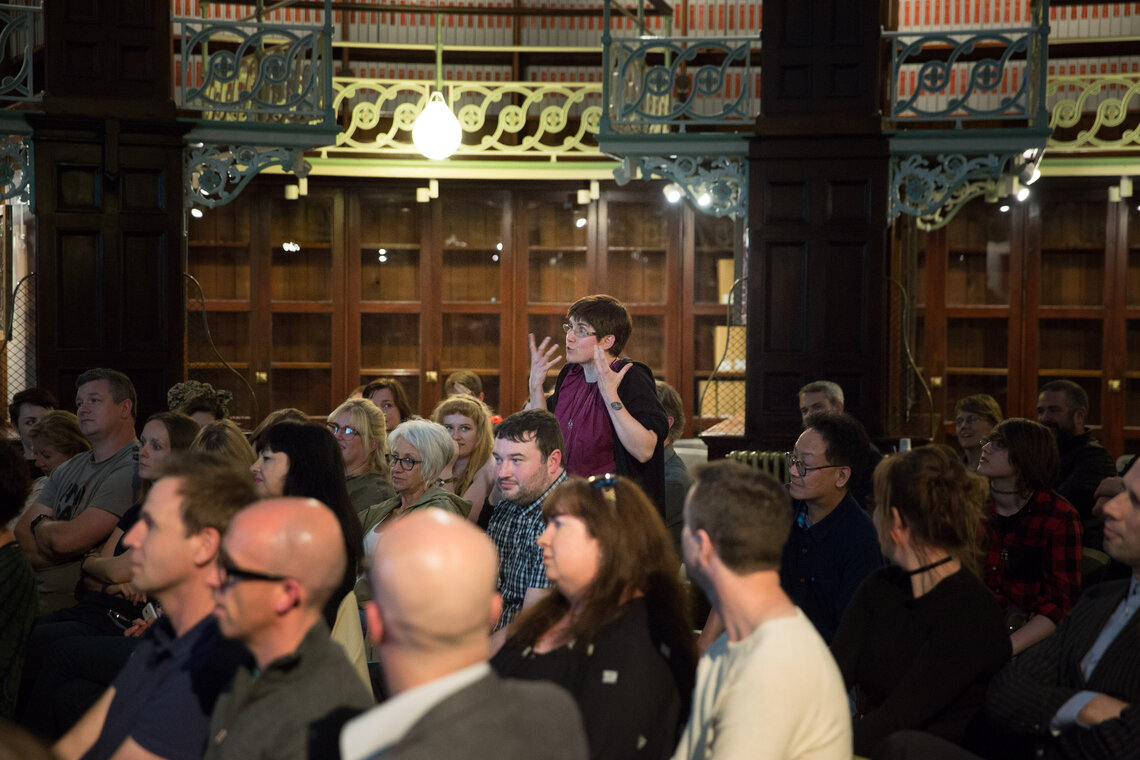 me asking my question courtesy of the BAFTA website
There was a Q&A after so i did my Hermione impression (a firm decisive hand will always get you chosen to ask a question) and I asked a question about his film The Revenger's Tragedy. Look at that photo! If you tied my hands behind my back I wouldn't be able to ask my question!
This Jacobean tragedy has kept the iambic pentameter but set it in the dystopian,punk inspired futuristic Liverpool of 2011. It is weird and wonderful and one of the best revenge tales i know. He's fab in it. So is the rest of the star studded cast (Christopher Eccleston, Derek Jacobi, Fraser Ayres, Marc Warren to name but a few) Anyway, after as we were waiting for autographs and photos a lady came up to me and said she recognised my voice off of YouTube.
What? Seriously what?
Then it hit me--the Carmarthen vegans have a couple of videos where we were singin' and dancin' about vegan issues and we put them up on YouTube for a laugh.well she was the niece of our friend Peter and had seen the videos and recognised me. Small world!
It was a brilliant day. We bought comics, saw geek stuff up close, met Eddie.
I bloody love my life.