If you read this blog then you know that we love the graphic novel
Locke and Key
by
Joe Hill.
The story is compelling and the artwork by
Gabriel Rodriguez
is amazing.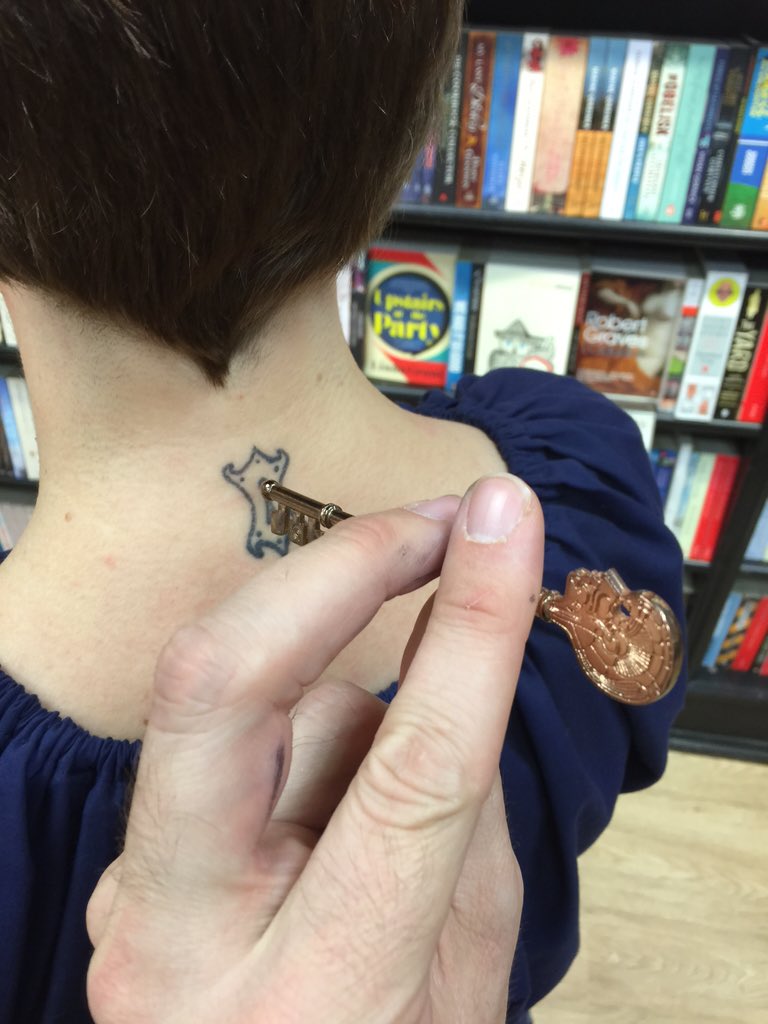 author Joe Hill using the head key on my keyhole tattoo
I won't gush on and on and on about it here when I have done it before. http://spidergrrlvstheworld.blogspot.co.uk/2012/09/boxing-without-black-eyes.html
But last year, Spiderman entered a photo competition with
Skelton Key
(the artisans who make all the replica keys featured in Locke and Key) and he won and we got a $50 gift voucher to spend.
So after a year of waiting for them to make the keys we wanted I give you the newest addition to our collection--key to the
crown of shadows
and the
anywhere key.
The key fits in the crown of shadows and with it you can control the living shadows.
Seriously, the shadows all do your bidding if you wear the crown with the key.
The second key is the
anywhere key
and it does what it say on the tin. You can stick the key into any door and as long as you can visualise where you want to go, when you open the door...you are there.
Yeah....we both tried it, but it doesn't work.
But still! we have keys! And we only had to pay postage as the cost of the keys was covered by the prize money. Now we own eight keys:
the anywhere key
lets you go anywhere
the shadow key
lets you control the shadows
the angel key
lets you unlock the wings so you can fly
the mending key
lets you open up a magical cabinet and heal whatever is broken or hurt (from dishes to a person who has been shot)
the well key
lets you call back a person who has died so you can speak to them
the animal key
lets you open a specific door that when you cross the threshold you turn into a beast of tooth or claw or feather
the head key
lets you open up your head (or someone else's) and take things out or put things in.
the moon key
lets you open a door from this reality to the next--it once helped young Ian Locke who was dying of a brain tumour to fly up to the moon in a hot air balloon, open the moon and join his ancestors
Now if they will only make the
timeshift key.