Hello lovelies! I recently spent two weeks in the US visiting my daughter and two delightful grand daughters.
Let's just start by saying, that
no one
in my American family is vegan or eats as healthy as we do. However, my daughter was a complete star--reading labels for unhealthy ingredients and animal products--and allowing me to fill up her fridge with vegetables and use her kitchen.
I haven't travelled back to the US since 2011. I had forgotten just how hard it is to find food without
High Fructose Corn Syrup
(HFCS) and
hydrogenated oils
. They are literally in EVERYTHING.
All the more reason to eat a whole food plant based diet while I was there.
Which was considerably more expensive than in the UK. I can completely see why families struggle to feed their kids healthy, nutritious food when produce costs so much and McDonalds cost so little.
If I had been at home, I would have cooked more adventurous meals, but I was not at home. I was far from home and having to use someone else's kitchen. So this is what I bought:
onions
peppers
roasted garlic in a jar
bottle wheat free soy sauce
bottle of lemon juice
red potatoes
big bag of kale
tins of chickpeas
tins of black beans
tins of kidney beans
small tin of sweetcorn
stock cubes
Now, my mum gladly lent me some spices from her cupboard so i wouldn't have to buy any. However, if I hadn't had a mum who lived a few streets away from my daughter's house I could have brought a few spice jars with me or just bought the minimum spices I needed. The minimum I could have used were these:
cumin
paprika
Italian herbs
Would more variety have been nicer? Sure. But that was the minimum. I could make lots of recipes with those. My mum included a few more like
curry powder
and my daughter had some
Creole seasoning
I borrowed because it was there.
So, how did I start my day? With
Overnight Oats
. My wonderful stepdad Carl bought me the following ingredients ahead of time and brought them to my daughter's house, so when I woke up the next day after 27 hours of travel, there would be breakfast. Carl and I both get HANGRY (hungry + angry) so he was a life saver. I made my Overnight Oats with:
Quaker rolled oats
almond milk
apple juice
frozen mango
If I had been home I would have added chopped nuts, maybe some coconut and definitely some chia seeds. But I was trying to keep it cheap.
Because I am secretly a Hobbit, I always have
Second Breakfast.
We found some vegan and gluten free frozen waffles and some organic syrup made from agave, maple syrup and cinnamon that were free of hydrogenated oils or HFCS. I baulked at the price of both, but my beautiful and generous daughter bought them for me. They had frozen waffles in their freezer too, and we could all sit down and "eat the same thing" together. For extra "staying power" I ate my waffle with a spoonful of peanut butter and the syrup.
After breakfast, I would drain and rinse a tin of beans and add some seasonings, put it into a reusable container and pop it in the fridge for lunch. For lunch, I would eat HALF of the spicy, marinated beans and then for supper I would cook onion, garlic, peppers and add in the remaining marinated beans plus cooked potatoes and kale. Because the beans were different every day, it tasted like a new dish every time.
I should also say that I cooked about 3 days worth of red potatoes in vegetable stock (from the exorbitant organic stock cubes I bought) and refrigerated them. then every night I just tossed a handful into my pan and reheated them.
Some of the variations I ate were:
magic beans made with kidney beans
(4 TB nutritional yeast flakes--I had brought them with me in my suitcase--1 TB oil and 1 TB soy sauce)
chickpeas with 2 tsp cumin and 2 TB lemon juice
black beans with sweetcorn with cumin and paprika
kidney beans with Creole seasoning
chickpeas, 1 TB soy sauce, 1 TB lemon juice 1 tsp Italian herbs
black beans, paprika and defrosted frozen mango
Cumin lemon chickpeas with onion, pepper, garlic, potatoes and kale
We decided to try to eat some "family meals" together, even though we both ate vastly different things. We managed this two ways:
Spaghetti night.
They had meat sauce and regular pasta, I had marinara sauce and GF pasta. I used some nutritional yeast flakes that I had brought with me in my suitcase as a Parmesan cheese on mine.
Brinner (Breakfast for Dinner)
We made grits to share, frozen waffles of our individual sorts and they had scrambled eggs and i had scrambled tofu. I had to improvise on the tofu, but a splash of soy sauce, some nutritional yeast flakes and a shake or two of mum's curry powder (for colour) and it was all good.
We did eat out a bit. Many lovely friends wanted to see me and unfortunately, the only place in town that has a play area is
McDonalds
. Not my first choice (or my second...or my third) but with two preschoolers, you need a play area. On these occasions, my daughter and her kids ate there and I brought a pack lunch of marinated beans and my cutlery roll where I can bring my own silverware and thereby avoid single use plastics.
Don't get me started on single use plastics. Can you believe there is STILL no recycling in my hometown????? I felt like I was committing a crime with every item that I had to throw away that I knew could be recycled. *Shudder.* Also, I was shocked at how several shops did not like me taking in re-usable bags and Every.Single.Shop. gave me a plastic bag whether I wanted it or not. (Even after I would preemptively shout "No bags, please!").
I could rant about this for days...perhaps in another post. It has made me come home to my beloved Wales and vow to be even better about my plastic use. I am really trying to reduce our plastic use...so there may be blog posts on that that follow.
Anyway. Back to food.
If you are a vegan and must eat out in a fast food establishment in the US,
Wendy's
supposedly makes an awesome salad with roasted edamame(if you get it without chicken) and you can get a jacket potato. I was never able to try this as they lack a play area for two frisky preschoolers. (see above) On my way out of town to drive to Houston to the airport I did eat at
Taco Bell.
If you order the crunchy corn taco shells it is GF and ask for beans instead of beef and "fresco style" you get pico de gallo instead of cheese and sour cream. It's not gourmet, but it is at least vegan. I had better luck here than at a really nice Mexican restaurant I went to with my cousin's family. Despite me repeatedly saying (and other members of the table saying) to the waiter about just bringing the VEGETABLES THAT COME WITH FAJITAS AND NO MEAT....I still got meat in there. Blech.
I also ate at an
Olive Garden
where I had a nice salad (sans croutons) and some GF pasta with marinara. I brought some nutritional yeast flakes in a small container for Parmesan. it was OK. Not brilliant...but edible. I ate at a fantastic independent
Lebanese restaurant named Jerusalem
where I got velvety hummus and cucumbers (in lieu of pita bread) and some flavourful beans (that were good but too oily for my tastes.) I had a lunch at the
Oriental Wok
with my sister-in-law and her husband. I had remembered them having a huge array of vegetarian dishes, but hadn't counted on the fact that we had to order solely from the lunch menu. There was less choice. Well, one choice. I got Kung Bo tofu in a spicy sauce...and that was all I could eat. I couldn't eat the soup (not vegan or GF) or the eggroll (ditto) and the fried rice had egg. And maybe sausage. Who knows. I asked if I could get some fried rice without "stuff" in it and was told NO. it was already made. I am really spoiled as our friend and landlord owns a Chinese restaurant around the corner from our house and he often generously gives us free meals. He *always* makes sure we get vegan fried rice.
So, did I eat healthily on my foray back to the land of my birth?
Yes. Mostly.
Was I able to escape HFCS and hydrogenated oil?
No. Not completely.
Did I manage to have any treats while I was there?
Yes. Quite a lot. I had to do a sugar detox when I came back. I found a few types of sweets that you could buy at the Dollar Store.
my Texas granny always had these peanut butter logs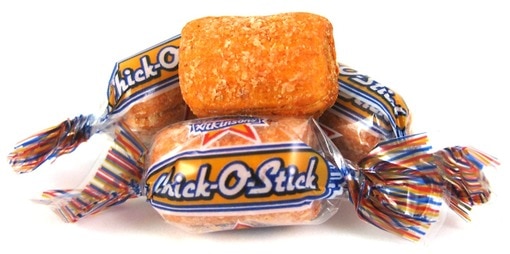 Chick-O-Sticks taste like a naked Butterfinger



We also found a no bake cookie bar recipe that was both vegan and GF, plus free of the things I didn't want to eat. It was extremely decadent and sweet, but easy to do. We made it twice (twice!), one time with the munchkins helping with the measuring. The other time we made it and didn't tell the kids and just ate it all ourselves. FACT.
Peanut Butter Krispie Squares
Melt in a pan:
1.5 cups peanut butter
1 cup light brown sugar
1 cup Karo corn syrup (not to be confused with HFCS...in the UK I'd say use Golden Syrup or Brown Rice Syrup as it needs to be a thick syrup)
When melted, pour over 5 cups Rice Krispie type cereal. Stir until coated and then spread into a foil lined pan. Score some lines in there and refrigerate until firm.
We used expensive Sugar in the Raw because white sugar in the US is not vegan on account of being processed through bone char.
Did I enjoy my time in the US? You bet. I loved seeing my daughter and her kiddos and my mum and stepdad. I saw several lovely friends who gifted me with many wonderful gifts (mostly spider themed...they know me well.)
Was I glad to get back to the UK? Hells yeah. I missed my Spiderman something fierce and I was glad to get back to affordable produce, recycling and sugar you don't have to think about not being vegan.
Now I just need to go recycle something to do penance for two weeks of throwing so much away.