We woke up reasonably early and went down for the enormous hotel breakfast. One of the reasons we chose the Travelodge was for their breakfasts. There were *plenty* of hot choices like cowboy beans, mushrooms and hash browns as well as Linda McCartney vegetarian sausage (sadly not the gluten free ones) as well as cold items like cereal and fruit. You could get soya milk on request so that made cereal an option as well. The bread was clearly labelled vegan too so Spiderman had toast. I brought my own bread and just toasted that and so got some hot bread products with non dairy spread and jam as well. In the end we were stuffed and fortified for a day of fun.
Saint Nicholas Market
So much of Bristol was vegan friendly. Everywhere we went there were signs saying
Suitable for vegans
or
Vegan options--just ask.
We had a wander around the lovely
St Nicholas Market
(not Christmas themed as my Mum thought--just named after the saint.) We found a vegan chocolate shop where we bought several bars of posh chocs in flavours like dark chocolate, lime and sea salt. Yum! There was a cute haberdashery shop called
Sew and Sew
that I bought several things in--beads, hot glue sticks, jewellery tools--all stuff I can't get locally.
We poked around bookshops and generally had a good ole meander. round the city. I wanted to go to a little shop called
Bamba Beads
on Gloucester Road
and i was not disappointed. The owner was this lovely bloke who was trying to care for his three year old who had gotten out of school early as it was half term. She had her face painted up like a tiger and was absolutely adorable. i got some nice wooden beads as well as some silver plated findings. He also gave me advice on bead making and i would highly recommend going there. You can shop online as well at www.bambabeads.co.uk
Since we were already on Gloucester Road we ventured further down it to a place called
Planet Pizza
for a late lunch. Their website said they did a vegan pizza called
Plan-It Vegan
as well as a gluten free crust. Win-win! We got the GF crust with mushrooms, olives and red onions and vegan cheese and it did not disappoint. Whoa mama, it was good. It was a posh pizza as the mushrooms were portabellas and the olives kalamata and the vegan cheese was gooey and stretchy and yum. We don't normally have that kind of cheese on a pizza as it is processed, but it made for a nice treat. Thanks again Mum for sending us the dosh to be able to get some food out in restaurants!
Doesn't he look like his dad--Stephen King?
In the evening we ventured out to waterstones to see our favourite author
Joe Hill.
He has written many amazing books (Twentieth Century Ghosts, Heart Shaped Box, Horns and our all time favourite graphic novel Locke and Key!) and he is always worth hearing from when he comes to this side of the pond. We saw him two other times in London and this time was just as good...maybe better. he was reading from his new book The Firefighter that will be out next year. He always spends a lot of time with each person who queues up for an autograph and this time we came prepared. We brought our replica
head key
from Locke and Key and asked him to take a picture of him opening my head with the key. I actually have a keyhole tattooed on the back of my neck just like in the comic so it was delightfully easy. Spiderman took a few snaps and then Joe Hill said, "Do you mind if I take a picture and put it up on twitter?" Do i mind????? Hells no! So he tweeted it to all his fans! Squeal!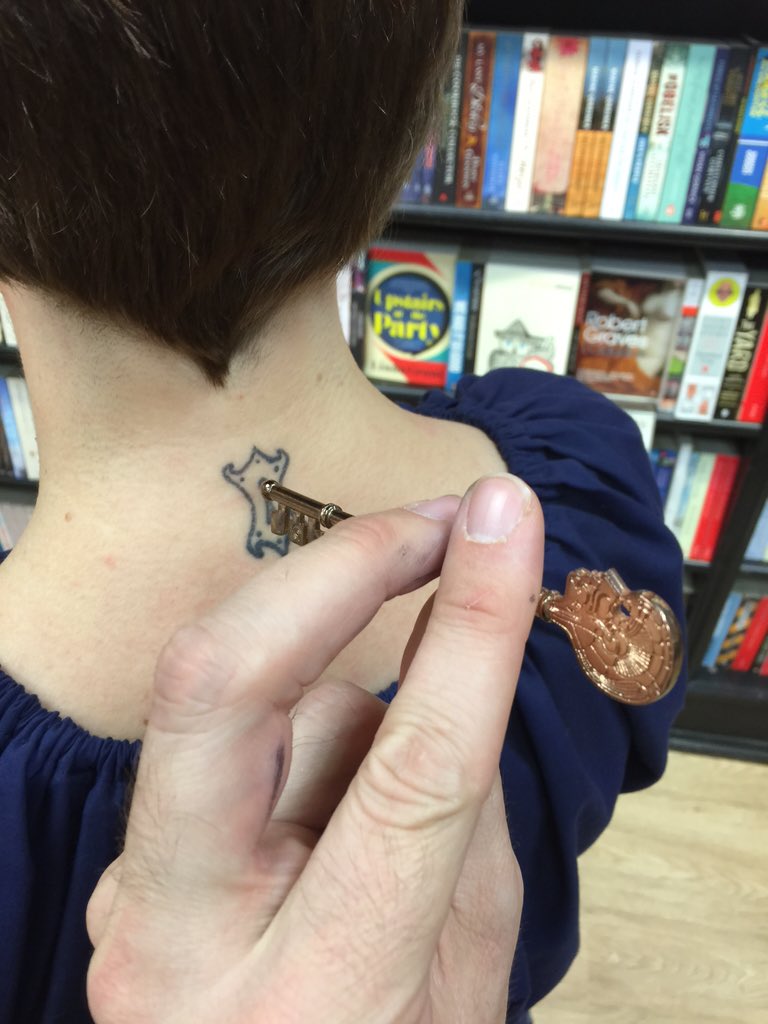 We are *so* thankful he wanted a picture because for some reason we had a camera fail and the pictures didn't come out. *Sob* I am told our picture would have been cooler and gotten the whole of Joe Hill and not just his hand--but oh well. What can you do? We were both bitterly disappointed, but got over it quickly. At least we have the memory and the tweet!
We returned back to our hotel and feasted on Chili Heatwave Doritos and hummus and posh chocs.
Stay tuned for Blissful Bristol, part three!