Greetings and salutations my eco-conscious friends. This is my third post inspired by my recent incredibly waste producing trip to the US where I went to visit my lovely daughter. I had several panic attacks while there over the amount of rubbish I was single-handedly producing and was gobsmacked by the sheer quantity of single use plastics that pervaded everyday life. If you missed that one and want to read about the 56 single use plastic water bottles I used in two weeks you can
CLICK HERE
.
When I was growing up, there were only Three R's--
Reduce, Reuse, Recycle.
Times have changed. Now there are Five. Because we live in such a throwaway society with all these single use plastics we have to start with the most important R.
Refuse.
Just say no. Which is a lot harder than it seems as my recent trip to the US proved. I thought the UK was bad, but it is a piece of cake compared to the amount of refusing I had to do in the US.
In the UK, they charge you 5p for a plastic bag, so there was an 85% drop in people getting plastic bags. People started to bring their own cloth ones (I upcycled and sewed some from old curtains) or bought
Bags for Life
--heavy duty reusable ones that are made from 94% recyclable plastic. Places like Tesco will replace your worn out Bag for Life for free if it is one of theirs.
In the US...a different story. Every. Single. Shop. popped my items in a plastic bag before i could refuse. Even my shouts of "No bag, please!" were ignored. It is just habit for the cashiers. You buy, they bag. My attempts to give back plastic bags were frowned up. The cashier would sigh and screw up their faces because I had messed up the system. The bags are on a special doo-dah (technical term) that held each bag open and made it easy to pop items in. My giving back a bag meant that they would have to fight to bag the next person's items.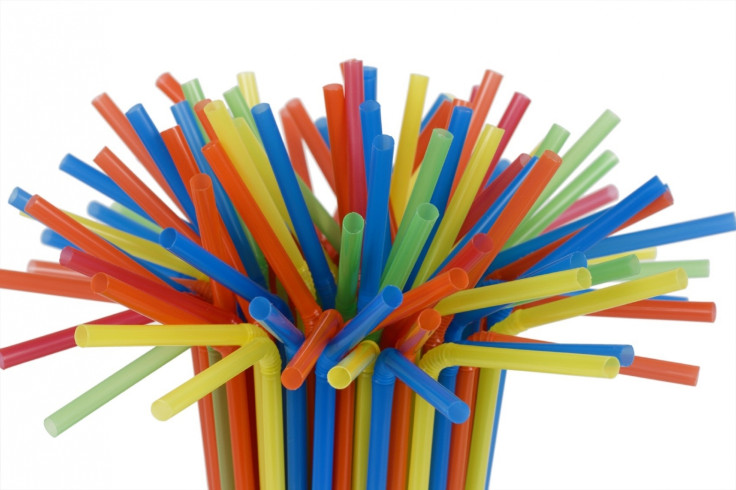 And the straws! For Frith's sake, Every. Single. Place popped a straw into my drink before I could say "No straw!" Boom! It was in there. The one place that brought me a straw in a paper wrapper was Olive Garden. When everyone was opening their straws and putting them in their glass of water I said I wanted to reduce my use of single use plastics, someone in my family actually said to me:
I *always* use a straw. you never know about the cleanliness of the glass. I don't want to put my mouth directly on it.
She said as she ate with a fork off of a plate. If you are that afraid of grot at the Olive Garden then you shouldn't eat there.
In the UK, we do a pretty good job of refusing...partially because people don't give you stuff like bags or straws. If any of my US peeps want to try this (and I would urge you to do so)....you have your work cut out for you.
In the UK, I nearly always have a water bottle...I think I have bought a single use plastic bottle a dozen times in 14 years. I do have a cutlery bag to carry cutlery and cloth napkins, but I don't always have it with me. I originally made it to go on hikes and picnics. Now I have it with me always. The sorts of places where I eat out give you real silverware not plastic...but there are *always* paper napkins, so now I am prepared to refuse those as well.
Here's my new improved DIY cutlery roll made from stuff I already had. Eagle-eyed friends will recognise this fabric as I have clothes made from it. It's basically two pieces of 10 inch by 14 inch fabric, sewn together on three sides (right sides together), turned right side out and top stitched to close the gap on the open side and folded up 4 inches to make a pocket. I sewed pocket divider lines and attached a button and elastic loop closure. I did the whole thing in a little over an hour.
After seeing all the smug Vloggers with their cute (and expensive) bamboo travel utensils, I was like--I can do better. It would have been even cheaper to just use some cutlery I already owned, but we only have place settings for four and I didn't want to always be shouting, "I know we've got more bloody spoons than this!" at Spiderman. So, I went to a charity shop and bought 2 spoons and 2 forks for 10p each. 40p. Splashing out the big money. They're not matchy-matchy, but oh well.
If you can't sew, why not just reuse something like a pencil case. or if your old pencil case is grotty, buy a new one for like £1.
If I was the sort of person who liked a straw in my drink (or lived in the US) I'd get one of these stainless steel reusable straws:
It even comes with a wee brush for cleaning it. I'm told the trick is to show it to your server when you order a drink to imprint on their mind not to give you one.
I rarely get stuff
to go
. If we are going to pay to eat out, we are damn well going to
sit in
and enjoy ourselves. But if you are the sort of person who always gets a
Starbucks latte
(other brands are available, and might even pay taxes) or whatever, invest in a reusable travel cup because that paper one that you just throw away is lined with plastic and can't be recycled. Plus lots of places will give you a discount for bringing your own. If you want to be all cool and hipster, bring a jar. But be aware that many jars aren't heat proof and might explode, so get a
kilner jar
which can withstand the heat and has less of a chance of leaking. Personally, glass is HEAVY and a faff to carry about because of the weight and the fact that it is BREAKABLE. (says the clumsy woman with back problems)
I was given one by my lovely daughter, so now, if I want to I can get my hot chocolate with soya milk to go, I can do it guilt free.
A reusable container is one I never thought about carrying. As i said, when we can afford to eat out we tend to eat in the establishment and don't get stuff like takeaways. But what about leftovers? You can ask places to put your leftover food in your own container. Or if you buy a slice of cake from a vegan stall, it can go in your box.
Now, you could spend money on a stainless steel container like the one featured above from A Slice of Green which costs £18 plus postage, or you could dig around in your cupboards and find something you ALREADY HAVE. Which conveniently is the third R in the Five R's--REUSE. Some people just carry a huge ass reused glass jar with them for this purpose.
I am using a BPA and Phthalate free plastic, leak proof box i got on sale from Tesco for £1.75. It is also much LIGHTER and not BREAKABLE because lugging around a giant jar would be murder on my back.
So here is my DIY Zero Waste Kit. It is made with cheapness in mind--I made the cutlery bag from materials i already had and I spent 40p on cutlery to go in it. I used my regular BPA free water bottle from Wilkos plus my new coffee travel mug that was a gift and a container I got on sale and stuck it in a free bag I got 5 years ago at a science thing.
I can carry it as is or pop it in my backpack. I plan on trying it out Saturday at the Vegan Fayre in town. I will report back on my experiences.